David Edgar Herold was
born
on June 16, 1842, in Maryland. He was the sixth child born to Adam and Mary Porter Herold. Two brothers died very young leaving "Davey" the only boy in a family with seven sisters. The Herolds moved to Washington, D.C., and they lived in a large brick home at 636 Eighth Street near the Washington Navy Yard. The family was well off financially. David's father was the chief clerk at the Navy Store at the Washington Navy Yard for more than 20 years. David liked to go bird hunting and spent several months every year engaged in that sport. Thus, he was very familiar with the Maryland countryside.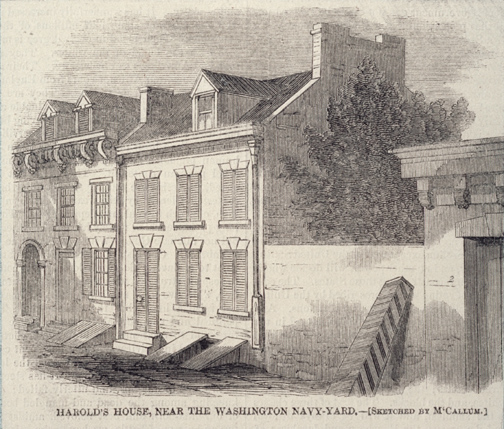 Image of David Herold's House (source: George Eastman House)
David had studied pharmacy at Georgetown College and had worked for several druggists in Washington. In 1863, while working for Thompson's Pharmacy in the heart of Washington, Herold may have delivered a bottle of castor oil to the White House and personally given it to Abraham Lincoln.
It is possible that Herold met Booth because of his friendship with John Surratt. It is also possible that the initial meeting took place in 1863 when Booth purchased drugs to treat a growth on his neck. Because Booth was involved in smuggling quinine to the South, it made sense to befriend Herold who had access to medicines. Additionally, it is likely that Herold was recruited by Booth because of his knowledge of lower Maryland which might be helpful in Booth's plot to kidnap Lincoln and take him south. On the night of Wednesday, March 15, 1865, Herold met with Booth and other conspirators at Gautier's Restaurant on Pennsylvania Avenue to discuss the possible abduction of the president. These plans never worked out.
When Booth's plans turned to assassination, some writers feel David Herold was assigned to guide Lewis Powell (alias Lewis Paine or Payne) to the secretary of state's home so Powell could assassinate William Seward. Then Herold was to lead Powell as he escaped from Washington, D.C. When screams came from the secretary's home, Herold didn't wait for Powell and rode off. Absolute proof that Herold was actually at Seward's is lacking, however. Herold crossed the Navy Yard Bridge and escaped from the Washington area.
Somewhere on the road to Surrattsville (now Clinton), Maryland, Herold met up with Booth (probably near Soper's Hill). The two stopped at John Lloyd's tavern and picked up a carbine, Booth's field glasses, and whiskey. From there they rode to Dr. Samuel Mudd's home near Bryantown and arrived about 4:00 A.M. Mudd set Booth's broken leg, and the two fugitives left Mudd's on the afternoon of April 15th, 1865.
Until April 26th the two were on the run. On that date, they were surrounded by Union cavalry while sleeping in a tobacco barn on the farm of Richard Garrett near Port Royal, Virginia. Herold gave up, but Booth was shot and killed after the barn was set on fire.
During the trial Herold had no chance whatsoever. He had been seen with Booth during the 12 days after the assassination and was in the barn when Booth was captured and killed. He was found guilty and sentenced to hang along with Lewis Powell, Mary Surratt, and George Atzerodt. In jail he was visited by his mother and many of his seven sisters shortly before the execution. Often described as a half-wit, in reality he was not. Herold was hanged on July 7, 1865. Of the four who were executed, he is the only one for whom no last words were recorded.
David Herold was buried at the Congressional Cemetery, on the banks of the eastern branch of the Potomac River. The cemetery is located at 1801 East Street, SE Washington, D.C. A photograph of Herold's grave is on the web. If interested CLICK HERE.