From the left: Lewis with his mother when he was 2; Lewis at age 12; Lewis at age 16;
Lewis after his arrest (age 20, almost 21)
Lewis Thornton Powell (also known as Lewis Paine or Lewis Payne) was born April 22, 1844, in Randolph County, Alabama. Powell had eight brothers and sisters, and his father, George, was a Baptist preacher and missionary. As Lewis grew up, his siblings called him "Doc." At age 12 he was kicked by a mule while playing in his back yard (resulting in a broken jaw and missing molar).

This injury led to the left side of his jaw being more prominent than the right, a fact noted by medical personnel who examined him during the conspiracy trial. It is likely young Lewis was educated by his parents at home. When he was 15, the family moved to a farm near Live Oak, Florida.

Pictured to the left is the Reverend George C. Powell, Lewis's father.

In 1861, when news of the Civil War's outbreak reached Live Oak, Powell volunteered as a soldier for the Confederacy. On May 30, 1861, he was accepted for enlistment as a private. His father said this was the last time he ever saw Lewis. According to William E. Doster, Powell's attorney at the conspiracy trial, while stationed in Richmond Powell attended a play and was particularly impressed by one of the actors. The actor's name was John Wilkes Booth. After the play, Powell introduced himself to Booth. An immediate friendship resulted. (This account of the initial meeting is very doubtful according to Betty Ownsbey in her book on Powell. It seems Booth's stage engagements in Richmond ended in May, 1860.)
Powell fought in the Battle of Gettysburg and was shot in the right wrist and taken prisoner. Later he was transferred to the United States Army Hospital in Baltimore. Powell escaped and enlisted in Col. John Singleton Mosby's Virginia cavalry in the fall of 1863. He was a very apt Ranger. Eventually, Powell departed from Mosby's cavalry and took the Oath of Allegiance to the Union on January 13, 1865. (This document described Powell as being 6 feet 1 1/2 inches tall with black hair and blue eyes.) Lewis then went to live in Baltimore. He boarded at the Branson boardinghouse which was being used as a front by those involved in Confederate espionage.

At some time Powell, probably through John Surratt, met with John Wilkes Booth. Dr. Samuel Mudd had previously introduced Surratt, a Confederate courier, to Booth. Booth saw Powell, tall and powerfully built, as an ideal and well-qualified co-conspirator in his plan to kidnap Abraham Lincoln. Powell was adept in the use of firearms. Booth took Powell "under his wing."

In late February of 1865 Powell showed up at Mary Surratt's Washington boardinghouse using the alias "Reverend Wood." On the night of March 15, 1865, Powell met with Booth and other conspirators at Gautier's Restaurant on Pennsylvania Avenue to discuss the possible abduction of the president.
On Friday, March 17, 1865, Powell, Booth and other conspirators planned to kidnap President Lincoln as he rode in his carriage to attend a play at the Campbell Hospital located just outside Washington, D.C. The kidnap plot failed as Lincoln never arrived in his carriage. ** The president had remained in Washington. At about 4:00 P.M., standing on the balcony of the National Hotel, he spoke to the 140th Indiana Regiment and presented a captured flag to Indiana's governor. The National Hotel was the same hotel where JWB stayed.
On April 14, 1865, after Booth heard of Lincoln's plan to attend Ford's Theatre, the conspirators held one final meeting. This was possibly in Powell's rented room at the Herndon House. However, it could well have been at another location most likely at another location as Powell had checked out during the mid-afternoon. Booth assigned Powell to kill Secretary of State William Seward that night at approximately 10:15 P.M. to coincide with Booth's attack at Ford's Theatre. Some writers feel David Herold was assigned to accompany Powell. Another conspirator, George Atzerodt, was supposed to assassinate Vice-President Andrew Johnson at the Kirkwood House.
Shortly after 10:00 P.M. that evening, Powell and David Herold arrived at the Seward home, the Old Club House (pictured to the left; source of picture: United States Naval Historical Center; the building was torn down in 1895 and is now the site of the Court of Claims Building), located in Lafayette Park across from the White House. Powell gained entrance to the secretary's residence by telling the second waiter, William H. Bell, that he had medicine for Seward from Dr. Tullio Suzzaro Verdi. Seward, 63, was quite ill due to a carriage accident and was confined to his bed in his third floor bedroom. Powell was well armed. He carried an 1858 Whitney revolver which was a large, heavy, and popular gun during the Civil War. Additionally, he carried a huge silver-mounted bowie knife with an alligator motif and the engraving "The Hunter's Companion - Real Life Defender." After pistol-whipping Seward's son, Frederick, Powell attacked the secretary of state with his knife. He placed his left hand on Seward's chest and then struck down with his knife several times. One stab wound went entirely through the secretary's right cheek. Seward was seriously injured in the attack. In all, Powell injured five people during his

wild rampage

in the Seward home.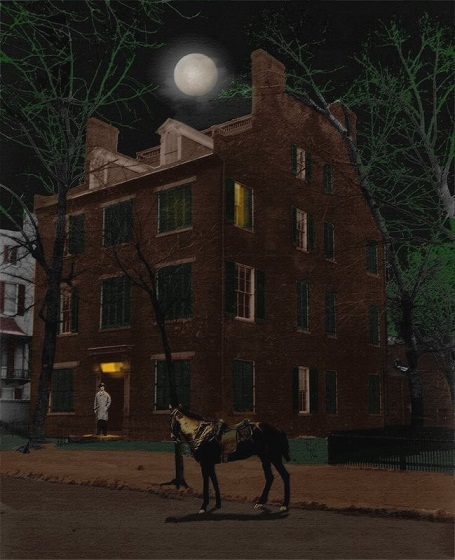 >
ARTWORK BY LEWIS POWELL BIOGRAPHER BETTY OWNSBEY
The photograph to the left is a Library of Congress photograph of William Seward before Powell's attack. To the right is a photograph of William Seward's disfigured appearance after Powell's attack. It is a University of Rochester Library photograph. It's a rare picture in that Seward hardly ever allowed photos to be taken that showed the scarred right side of his face. Source of the University of Rochester Library photograph: p. 98 of the late Dr. John K. Lattimer's Kennedy and Lincoln: Medical and Ballistic Comparisons of Their Assassinations.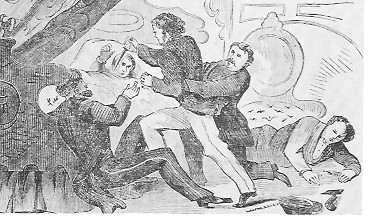 >
SKETCH OF POWELL'S ATTACK
SOURCE: The Assassination and History of the Conspiracy (Cincinnati, J.R. Hawley & Co., 1865)
SEWARD'S MOUTH SPLINT

After Powell's malicious attack a dentist, Dr. Thomas Brian Gunning, designed a mouth splint for William Seward. The splint was intended to keep Seward's jaw fragments lined up. Seward had to wear the device for several months. (From Dr. John K. Lattimer, et al., Journal of the American Dental Association, January, 1968. Dr. Lattimer included the graphic on p. 101 of his Kennedy and Lincoln: Medical and Ballistic Comparisons of Their Assassinations.)
Powell ran out of the house and hid for three days in a wooded lot about a mile from the Navy Yard Bridge. He took shelter in the branches of a tree. Then, on the night of April 17, 1865, disguised as a laborer, he showed up at Mary Surratt's home just as she was being placed under arrest. Powell was arrested and taken in for interrogation. Bell, the secretary of state's second waiter, identified Powell as Seward's attacker.
WILLIAM BELL IDENTIFIED LEWIS POWELL
Source: National Park Service

Powell was charged with conspiracy and attempted murder and was tried along with the others who had been charged by the government. Powell maintained that Mary Surratt was innocent. He was relaxed during the trial and slept well at night. According to The Abraham Lincoln Encyclopedia (p. 245), he didn't have a bowel movement for 35 straight days. He was a stoic prisoner who handled his precarious situation with manliness. His lawyer, William E. Doster, argued in vain that Powell "at the time had no will of his own, but had surrendered his will completely to Booth." He was found guilty and sentenced to hang.

Lewis Powell had a favorite hymn. It was called The Convert's Farewell, and Powell apparently told Reverend Abram Dunn Gillette about it the night before the execution. To listen to The Convert's Farewell please CLICK HERE.
Early in the afternoon of July 7, 1865, along with Mary Surratt, George Atzerodt, and David Herold, Powell walked to the scaffold. The executioner, after checking the noose on Powell's neck, said, "Paine, I want you to die quick." Powell replied, "You know best, Captain." After a hood was placed over Powell's head, he muttered, "I thank you. Good-bye." Those were the last words Lewis Powell ever spoke. No one from Powell's family in Florida ever came to Washington during the trial.
Until recently historians didn't know what happened to Powell's remains. They were not claimed by his family and were buried in Washington's Holmead Cemetery in 1869. The cemetery was disbanded in the mid-1870's, and there is no record of what happened with Powell's body. However, his skull was discovered in 1992 in a collection of the Smithsonian Institution. The FBI confirmed the skull as Powell's. On November 11, 1994, Powell's skull was buried next to his mother's grave in Geneva, Florida. Lincoln assassination experts Betty Ownsbey and Michael Kauffman participated in the burial. Pastor Daryl Permenter of the First Baptist Church of Geneva performed the services. The Geneva Cemetery is a very quaint cemetery.

Pictured below is a photo of Michael Kauffman and the skull of Lewis Powell. The photo was taken by anthropologist Stuart Speaker who made the discovery. The photo is presented exclusively on this web page with the permission of Michael Kauffman. It is not in the public domain.

The headstones of Lewis and his mother (who was born in 1811) are in a semi-shaded area. The headstones are pictured below the photo of Michael Kauffman and the skull.



NOTE: The first three photographs at the top of the page came from Alias "Paine" Lewis Thornton Powell, the Mystery Man of the Lincoln Conspiracy by Betty J. Ownsbey. Betty obtained the photos courtesy of Rufus Yent, a Powell relative. The fourth photo is from the Library of Congress. Anyone wishing to read the fascinating details of Powell's military career can do so in Betty's article entitled "The Military Career of An Assassin" in the November 1998 edition of North & South magazine.

** Verifying information about Booth's March 17 kidnap plans was told by the late Lincoln assassination scholar, Dr. James O. Hall, during an interview published in the April, 1990, edition of the Journal of the Lincoln Assassination. Dr. Hall said that E.L. Davenport, an actor in the play at Campbell Hospital, recalled how Booth had arrived at the hospital and asked about Lincoln's whereabouts on the afternoon of March 17.

WHY DID BOOTH WANT SEWARD ASSASSINATED? If Andrew Johnson had also been assassinated as Booth planned, Senate President Pro Tempore Lafayette S. Foster of Connecticut would have become acting president pending an election of a new president. The process of electing a new president could only be set in motion by the secretary of state; thus Booth felt Seward's assassination would throw the Union government into "electoral chaos." A Presidential Succession law passed on March 1, 1792, was still in effect in 1865. It provided that the president pro tempore of the Senate was third in line to the presidency and the Speaker of the House was fourth. This law didn't make any succession provisions beyond the Speaker. For much more information see the article entitled "Why Seward?" by Michael Maione and James O. Hall in the Spring 1998 edition of the Lincoln Herald.

HIGHLY RECOMMENDED: There is an extremely detailed description of Powell's attack at the Seward residence in the October 2010 edition of the Surratt Courier. John Elliott, who is working on the upcoming book Inside The Walls, and Barry Cauchon found Private George Foster Robinson's account of the tragedy housed at the Pearce Museum at Navarro College in Corsicana, Texas. It is published in the Surratt Courier for the first time with permission from the college.

To listen to an interview with Betty J. Ownsbey please CLICK HERE.

THE EXECUTION - JULY 7, 1865, AT 1:26 P.M.
Left to right: Mary Surratt, Lewis Powell, David Herold, and George Atzerodt


Others Tried By The Military Commission

| | | |
| --- | --- | --- |
| | | |
| | | |
| | | |
| | | |
| | | |
| | | |
| | | |
LEWIS POWELL BIOGRAPHY

This is the definitive biography of Lewis Powell. Betty J. Ownsbey spent 17 years researching the man. To purchase Betty's outstanding book please

CLICK HERE

.