MARY SURRATT
Surratt House Museum Photograph
Mary Elizabeth Jenkins Surratt was born in May or June of 1823 near Waterloo, Maryland. Her birthplace now lies within the grounds of Andrews Air Force Base, home of Air Force One. In 1840, at age 17, she married 28-year-old John H. Surratt. The couple went to live on lands that John had inherited from his foster parents, the Neales, in what is now a section of Washington known as Congress Heights. John and Mary had three children. Isaac was born on June 2, 1841. Anna was born on January 1, 1843, and John Jr. was born on April 13, 1844.


Mary's children: Isaac, Anna, and John Jr.
In 1851 fire destroyed the Surratt home. John Surratt decided not to rebuild the home at that location. He chose to build a combination home/tavern, and the couple bought a farm not far from Mary's place of birth and near where her family still lived. They established a tavern and later a post office. The tavern was in operation by the fall of 1852, and by 1853 the family was living in the newly constructed Surratt House and Tavern. On December 6, 1853, John Surratt Sr. bought the Washington D.C. property on H Street that would later become Mary's ill-fated boardinghouse. The price was $4000. Mr. Surratt was appointed postmaster on October 6, 1854, and the surrounding area was henceforth called Surrattsville, Maryland. When John Sr. died in 1862 John Jr. briefly served as Surrattsville's postmaster. (On May 3, 1865, the Post Office Department changed the town's name to Robeystown, after the postmaster Andrew V. Robey, and subsequently to Clinton on October 10, 1878.)
On October 1, 1864, along with her daughter, Anna, Mary moved to the Washington D.C. property previously purchased by her husband. She rented the Surrattsville tavern to a man named John Minchin Lloyd.
To make money, Mary started renting rooms in her Washington, D.C. residence located at 541 H Street. (The photo to the left is a Library of Congress photograph of Mary Surratt's boardinghouse taken during the nineteenth century.) During the Civil War, Mary's son, John, became a Confederate spy and messenger. John Jr. met John Wilkes Booth, and early in 1865, Booth became a frequent visitor to the boardinghouse. Other people, later identified as co-conspirators, also frequented the boardinghouse. It is unclear if Mary Surratt knew what all the "activity" was about.

Booth originally planned to kidnap Abraham Lincoln. In connection with that plot some of Booth's co-conspirators hid two Spencer carbines in the joists of an unfinished loft in John Lloyd's leased tavern. Apparently Lloyd had misgivings over the hiding of weapons in the building, but he allowed it to happen.

On April 11, 1865, Mrs. Surratt made a trip to Surrattsville. She traveled with Louis J. Weichmann, one of her boarders (pictured to the right). During the trip, they met John Lloyd on the road at Uniontown. According to Lloyd, Mrs. Surratt told him the "shooting irons" would be needed soon. This was a reference to the rifles which had been hidden in the tavern by Booth's co-conspirators.
Three days later, on the day of the assassination, Mrs. Surratt made another trip to Surrattsville. Again Weichmann accompanied her in a hired buggy. This time, according to Lloyd, she delivered Booth's French field glasses and reminded him to ready the weapons hidden at the tavern he leased from her. Lloyd testified Mary "told me to have those shooting-irons ready that night, there would be some parties who would call for them."

It was likely that Lloyd, a heavy drinker, was drunk during this conversation with Mary Surratt. At midnight, after the assassination, Booth and David Herold stopped at the tavern to collect these items.

Nowadays the boardinghouse is the Wok and Roll Restaurant (left), and the tavern (pictured below) is the Surratt House Museum. The Surratt House Museum complex is owned and operated by a government agency, the Maryland-National Capital Park and Planning Commission, Department of Parks and Recreation, Prince George's County, Natural and Historical Resources Division. The volunteer Surratt Society, among many wonderful things, assists with the interpretation of the site. It has been a very productive joint effort between public and private support for over 30 years.
Within hours of President Lincoln's assassination detectives arrived at the Surratt boardinghouse. They searched the house and questioned all 13 people they found. On the night of April 17, 1865, officers arrested Mrs. Surratt. She was charged with conspiracy and with aiding the assassins and assisting their escape. The fact that Lewis Powell (alias Paine or Payne), a definite conspirator, had come to her boardinghouse just as she was being arrested didn't help her cause.
The carte-de-visite (left) entitled Morning, Noon, and Night was taken from a mantel at the Surratt boardinghouse during the police search of the premises. On the back of the carte-de-visite, Anna Surratt had hidden a photograph of John Wilkes Booth. An anonymous donor graciously contributed the image of Morning, Noon, and Night to this website.

Mary Surratt claimed total innocence. She said she knew nothing of Booth's plans, and that her trips to Surrattsville had to do with collecting some money she was owed by a man named John Nothey.

One thing that looked suspicious about Mrs. Surratt was that she claimed she had never seen Lewis Powell before when he appeared at her boardinghouse on April 17. He had been there many times before the assassination. Was she lying, or was this due to poor eyesight?

Mrs. Surratt was tried along with seven men. Her attorneys, Frederick A. Aiken and John W. Clampitt, were inexperienced. In jail Lewis Powell maintained Mrs. Surratt was 100% innocent. However, she was convicted mostly due to the testimony of John Lloyd and Louis Weichmann. These men drew great criticism for their testimony. Nearing age 60 and dying, on June 2, 1902, Weichmann allegedly called to his sisters, asked them to get pen and paper, and told them to write "This is to certify that every word I gave in evidence at the assassination trial was absolutely true; and now I am about to die and with love I recommend myself to all truth-loving people." However, this statement has never been produced and must presumed to be lost. Also, John Lloyd stuck to his damaging testimony at the 1867 trial of John Surratt.

In court Mrs. Surratt was dressed in black, with her head covered in a black bonnet. Her face was mostly hidden behind a veil. The jury voted the death penalty for her but added a recommendation for mercy due to her "sex and age." The recommendation was that the penalty be changed to life in prison. (** see below **)
>
Sketch of Mary Surratt during the trial. The sketch appeared on the cover of an 1865
pamphlet titled Trial of the Assassins and Conspirators for the Murder of Abraham Lincoln
President Andrew Johnson maintained that he never was shown the plea for mercy. Judge Advocate Joseph Holt said he had been in Johnson's presence when the president read the plea. Johnson was quoted as saying that Mary Surratt "kept the nest that hatched the egg." Anna Surratt tried in vain to meet with the president. Thus, along with Lewis Powell, David Herold, and George Atzerodt, Mary Surratt was executed by hanging on July 7, 1865. She wore a black dress and black veil. Her last words on the scaffold were "Don't let me fall."
Even Captain Christian Rath, the hangman, did not expect Mrs. Surratt to be executed. In his personal account of the hanging he stated, "The night before the execution I took the rope to my room and there made the nooses. I preserved the piece of rope intended for Mrs. Surratt for the last. By the time I got at this I was tired, and I admit that I rather slighted the job. Instead of putting seven turns to the knot - as a regulation hangman's knot has seven turns - I put only five in this one. I really did not think Mrs. Surratt would be swung from the end of it, but she was, and it was demonstrated to my satisfaction, at least, that a five-turn knot will perform as successful a job as a seven-turn knot."
Four years later Anna Surratt made a successful plea to the government for her mother's remains. Today, Mary Surratt is buried in Mount Olivet Cemetery in Washington, D.C. The address of the cemetery is 1300 Bladensburg Road, NE. Her headstone reads simply "MRS. SURRATT." (The photograph is from

Mary Surratt: An American Tragedy

by Elizabeth Steger Trindal.) Anna Surratt and Isaac Surratt were buried on each side of their mother. John Surratt was buried in Baltimore. Strangely, John Lloyd, whose testimony was so damaging to Mary, was buried less than 100 yards south of her in the same cemetery. His simple tombstone is marked John M. Lloyd.

Elizabeth "Bessie" Jenkins, Mary Surratt's mother, passed away in June 1878 at age 84. She was buried at St. Ignatius Church on Brinkley Road in Oxon Hill, Maryland. She never made a public comment about her daughter's execution.

Historical opinion is divided on the subject of Mary Surratt's guilt or innocence. In 1977 a "Lost Confession" of George Atzerodt surfaced. Regarding Mary Surratt, Atzerodt stated, "Booth told me that Mrs. Surratt went to Surrattsville to get out the guns (Two Carbines) which had been taken to that place by Herold. This was Friday." On the face of it, this statement by Atzerodt would certainly seem to point towards Mary Surratt's complicity with John Wilkes Booth. (For the full text of Atzerodt's lost confession, CLICK HERE.) Although no one knows for certain, it seems at least possible that Mary knew about the plot to kidnap the president, but may not have known about the plan to assassinate him. Several good arguments for Mary's innocence are made by Elizabeth Steger Trindal in her article entitled The Two Men Who Held The Noose in the July 2003 edition of the Surratt Courier.
** The undersigned members of the Military Commission detailed to try Mary E. Surratt and others for the conspiracy and the murder of Abraham Lincoln, late President of the United States, do respectively pray the President, in consideration of the sex and age of the said Mary E. Surratt, if he can upon all the facts in the case, find it consistent with his sense of duty to the country to commute the sentence of death to imprisonment in the penitentiary for life. **

I am grateful for the help of the late Laurie Verge, former Director of the Surratt House Museum, for her assistance with certain dates and other particulars on this page.
CLICK HERE
to listen to an online interview with Laurie Verge.
In the fall of 2009 production began on a historical drama entitled
The Conspirator
, the story of Mary Surratt. Robert Redford is the film's director, and actress Robin Wright portrays Mary Surratt. Also in the cast are James McAvoy, Kevin Kline, Alexis Bledel, Evan Rachel Wood, Tom Wilkinson, Justin Long, and Toby Kebbell. The film debuted at the Toronto International Film Festival in September 2010. It opened in theaters in April 2011.
In 2009 Watermark Films released a short film entitled
The Killing of Mary Surratt
. The film has received critical acclaim and has won several awards.
In 1996 the Pelican Publishing Company published a sympathetic book on Mary Surratt's life. It's called
Mary Surratt: An American Tragedy
by Elizabeth Steger Trindal. Trindal's book argues for Mary Surratt's innocence. (The picture of Louis Weichmann on this page came from p. 69 of Trindal's book. The source of the picture is the David Rankin Barbee Papers, Georgetown University Library, Washington, D.C.)
KATE CLIFFORD LARSON'S THE ASSASSIN'S ACCOMPLICE: MARY SURRATT AND THE PLOT TO KILL ABRAHAM LINCOLN

In

The Assassin's Accomplice: Mary Surratt and the Plot to Kill Abraham Lincoln

, historian Kate Clifford Larson tells the gripping story of Mary Surratt, the first woman ever to be executed by the federal government of the United States. Dr. Larson takes a very different look at Mary Surratt's complicity in Booth's plot than does Elizabeth Steger Trindal. For more information please

CLICK HERE

.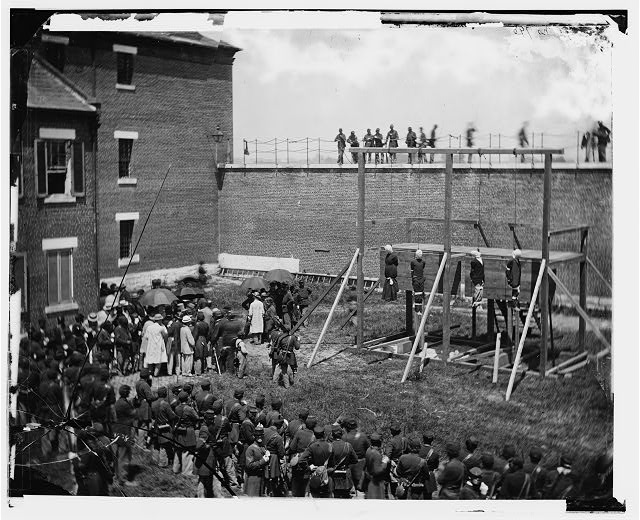 THE EXECUTION - JULY 7, 1865, AT 1:26 P.M.
Left to right: Mary Surratt, Lewis Powell, David Herold, and George Atzerodt.

>

Others Tried By The Military Commission
| | | |
| --- | --- | --- |
| | | |
| | | |
| | | |
| | | |
| | | |
| | | |
| | | |