09-20-2017, 01:30 PM
Gene C
Hero Member


Posts: 5,743
Joined: Jul 2012
Best Book Stores
Nice to see some US bookstores on this list.
http://www.cnn.com/travel/article/worlds...index.html
Powell's City of Books - Portland, OR
Strand - New York
John F King Used Books - Detroit
Parnassus Books - Nashville, TN
The Last Book Store - Los Angeles, CA
Have you visited any? Your opinion of the store please
Who did they miss and why?
---
So when is this "Old Enough To Know Better" supposed to kick in?
09-20-2017, 02:29 PM
RJNorton
Hero Member


Posts: 11,904
Joined: Jun 2012
RE: Best Book Stores
The biggest bookstore Vicki and I have visited in Florida is Haslam's. It is located in St. Petersburg. It is huge.
http://www.haslams.com/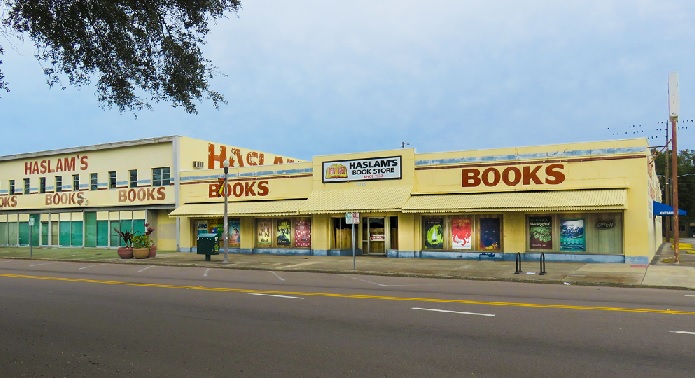 09-20-2017, 03:08 PM
Tom Bogar
Senior Member


Posts: 154
Joined: Jul 2012
RE: Best Book Stores
I would add the Tattered Cover in Denver. It's mammoth, and yet quaintly rustic and inviting at the same time. I've been to the Strand in NY, which is extremely well stocked, and equally crowded, with narrow aisles and towering stacks, but a joy to behold. In both stores, you can get lost for hours (for those of us who still enjoy actual books--thankfully including many users of this forum). ;-)
09-20-2017, 09:02 PM
RE: Best Book Stores
It's not a big shop, but Rock Toews' Back Creek Books in Annapolis is a stop Kate and I always make when we're visiting the Maryland's capital. Rock is a big Lincoln buff and has a
nice selection of rare and OOP Lincoln titles
. Everytime we go there I walk out with a new old book.
In the same vein, Prairie Archives in Springfield, IL has a great selection of Lincoln books and a whole lot more. During our last couple summer trips to Springfield, we hit up Prairie Archives both times.
09-20-2017, 10:15 PM
(This post was last modified: 09-20-2017 10:26 PM by JMadonna.)
JMadonna
Forum Master


Posts: 892
Joined: Jul 2012
RE: Best Book Stores
John K King in Detroit is massive and magical. It used to be an old manufacturing plant. It's 4 city-block stories of wall to wall books, magazines, and autographed historical memorabilia of all kinds. I never got out of the first quarter of the first floor.

It is not yet computerized so each floor has a manager that's responsible for knowledge and maintenance of the categories held there. Tell them what book you're looking for, the author, and whatever requirements you have. Chances are good they've got it.

User(s) browsing this thread: 1 Guest(s)