What will you read in 2013?
01-09-2013, 09:39 AM
RJNorton
Hero Member


Posts: 12,323
Joined: Jun 2012
RE: What will you read in 2013?
Tom, I do not know about baseball, but he did play a form of handball.
From The Real Lincoln: A Portrait
by Jesse W. Weik:
"On a vacant lot south of the building which housed the office of the "Springfield Journal," John Carmody had leveled and smoothed the surface of the ground and maintained there a ball alley a place where the lawyers sought amusement and exercise by playing at "fives" a game in which the contestants would throw a ball against a brick wall and catch it when it rebounded, also known as hand-ball. The game was to keep the ball going. If the player failed to catch it on the rebound, he lost a point, and twenty-one points constituted the game. William Donnelly, a boy employed by Carmody, had charge of the alley, kept the floor in proper condition and collected the fees. Several years ago I visited Donnelly, then living in Springfield, and interviewed him regarding the enterprise. Lincoln, he said, was very fond of the game and was one of the most active and skillful players; his success being due to his agility and large hands, enabling him to catch the ball almost every time. Donnelly reported that during the week of the Chicago Convention Mr. Lincoln was about the place a good deal, indulging freely in the game."
P.S. Abraham Lincoln would have been a Chicago Cubs' fan. The 1969 New York Mets would have broken his heart.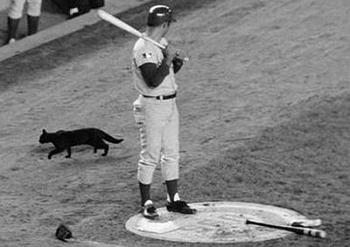 User(s) browsing this thread: 1 Guest(s)