Major Rathbone's accomodation in Hannover
05-30-2013, 08:54 AM
RJNorton
Hero Member


Posts: 12,230
Joined: Jun 2012
Major Rathbone's accomodation in Hannover
A great big
THANK YOU
to Eva for sending this information and images!
"I don't know whether the following is of any interest for Americans, but I was curious about Major Rathbone's fate in Hannover and found out that the place he was committed to was not the worst to face your future after becoming insane and kiling your wife in those days.
However, here's a summary:
According to the death record Major Henry Rathbone was accommodated in Michaelis Cloister (part of the Church of St. Michael), one department of the former Hospital and Nursing Home Hildesheim. It was the oldest institution caring for menntally ill people in Lower - Saxony, Germany.
St. Michaelis Cloister was transformed into a hospital for insane in the course of the dissolution of the monasteries due to the secularization. It was opened on May 30,1827 for "cases of mental and mood illness". Since the total capacity of 400 patients was continually exceeded, two further departments were opened in 1833 and 1849, and the institution has been named Hospital and Nursing home of Hildesheim. It reached a high reputation and was regarded as the "largest and most prestigious institution of Germany". In 1940, 1132 patients were treated there. During the Nazi reign, within the "action of T4", over 400 patients suffered the removal in the killing facility Hadamar in Hesse, Germany. In 1943 patients were moved complettely and Michaelis Cloister accomodated an SS school. In the last days of the war, Michaelis Cloister and the Church of St. Michael were destroyed in an air raid during WW II on March 22,1945, but reconstruction was begun in 1950 and completed in 1957.
The Church of St. Michael is one of the most important churches in Ottonic (Early-Romanesque) style which in 1985 became a UNESCO World Cultural Heritage site for its collection of medieval treasures and its 1000-year old rosebush.
The Abbey Church was constructed between 1001 and 1031 under the direction of Bishop Bernward of Hildesheim (993-1022) as the chapel of his Benedictine monastery. When the Reformation was adopted in Hildesheim in 1542, St. Michael's Church became Lutheran, but the Benedictine monastery remained existing until it was secularized in 1803. The monks would still use the church and its crypt, which remain Catholic to this day.
I attach three images of the hospital and the church.
Hospital and Nursing Home Hildesheim, view from northern direction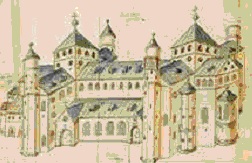 1662 sketch of the Abbey Church of St. Michael's
Abbey Church of St. Michael's, current photo

User(s) browsing this thread: 1 Guest(s)