---
John Parker - GARY POPOLO - 02-17-2013 04:46 PM

I don't know if this subject has come up before but why was Parker never held responsible for allowing Booth to enter the stairway to the president. I believe I read where he was not punished in anyway for his actions.


---
RE: John Parker - Jim Garrett - 02-17-2013 05:53 PM

The protection of the President was a relatively new responsibility for the Metropolitan Police Dept. in 1865 and the duties were very vague. There has been some conjecture that John Parker's duty was to get Lincoln through the theatre and into the Presidential box. His responsibility would resume at the end of the play, escorting Lincoln out of the theatre to the carriage and then back to the White House.

In addition to the ambiguity of the duties, Lincoln was notoriously laxed in his own security. He seemed almost Calvinistic at best, fatalistic at worst as to the effectiveness of his security. Some believe that when he entered the box, he told Parker his services would not be needed until after the play.

Some accounts have Parker leaving the area next to the box to get a better view of the play. I personally doubt this. Right outside the box is a pretty good spot to watch the play from. Also it was a full house. I don't know where Parker would have found another seat.

Some other accounts place Parker with Francis (Ned) Burke, Lincoln's carriage driver. He has been placed with Burke in front of the theatre and also in the Starr Saloon. Burke had a reputation as a drinker, and Parker's performance in his duties may suggest an inclination to imbibe. The Star Saloon senerio certainly seems very possible.

In any case, if his duties did not entail standing guard at the entryway to the box, or if President Lincoln had relieved him of that function either that night or on prior occasions, it would be difficult to charge him with negligence.


---
RE: John Parker - Craig Hipkins - 02-17-2013 10:04 PM

I believe that Parker was charged but never tried with allowing President Lincoln to be assassinated. The record of this has apparently been lost. I agree with Jim in that Parker's duty was to get Lincoln safely to and from the theatre. Still, one can only wonder at what was written on the charge letter!

I believe that I read somewhere that after leaving Ford's theatre that evening, Parker arrested a prostitute and brought her in for questioning. I forget where I read this. Does anyone else remember hearing about this?

Craig


---
RE: John Parker - Hess1865 - 02-17-2013 11:39 PM

Yes, I remember reading the story of Parker arresting a hooker and bringing her into the police station later that night.
I just don't remember which book!

My Parker question is this: does a photograph of the man exist??
I don't recall ever seeing one


---
RE: John Parker - L Verge - 02-18-2013 12:12 AM

I don't believe that anyone has ever found a photo of John Parker. There are two others that I would like to see photos of also - John Lloyd and John Surratt, Sr.

Just posting that sentence brought back a memory. Many long years ago, a group of us gals in hoop skirts at Surratt House remarked about how many "Johns" are involved in this story. Did anyone ever make a list?

BTW: I mean men named John - not nicknamed "John" as in Ella Turner's type.


---
RE: John Parker - J. Beckert - 02-18-2013 12:15 AM

No photograph of Parker exists and his contribution to the law enforcement participation in the Lincoln assassination was arresting a prostitute named Lizzie Williams early the next morning. There are several interpretations of Parker's duties that night, but I personally feel he was horribly negligent.


---
RE: John Parker - L Verge - 02-18-2013 12:19 AM

I agree about his negligence. Even though Forbes was sitting at the door, Forbes was neither a soldier nor a law enforcement officer. I think Parker had the responsibility as latter to remain close to the President.


---
RE: John Parker - RJNorton - 02-18-2013 06:23 AM

Several prominent historians have suggested that Parker was there with the Lincolns more as an escort to and from the theater rather than to provide actual protection. However, if that be the case, why was Parker charged with neglect of duty? In part, the citation read:

"In this, that Said Parker was detailed to attend and protect the President Mr. Lincoln, that while the President was at Ford's Theatre on the night of the 14 of April last, Said Parker allowed a man to enter the President's private Box and Shoot the President."

Wouldn't the citation mean negligence was involved?

Another White House policeman, Tom Pendel, wrote that he asked Parker (as Parker was departing the White House to head to Ford's), "John, are you prepared?" Another officer, Alphonso Dunn, overheard the conversation and said, "Oh Tommy, there is no danger." Pendel replied, "Dunn, you never know what might happen." My take on this conversation was that presidential protection "went with the territory" of Parker's assignment that night.

William H. Crook said of Parker, "Had he done his duty, I believe President Lincoln would not have been murdered by Booth. Parker knew he had failed in duty. He looked like a convicted criminal the next day. He was never the same man afterward."


---
RE: John Parker - Jim Garrett - 02-18-2013 08:01 AM

Parker was eventually dismissed from the Metropolitan Police Dept and returned to his form profession in the construction trade.


---
RE: John Parker - Craig Hipkins - 02-18-2013 09:51 AM

I believe that Parker was also appointed to the White House security by Mary Lincoln. A few conspiracy theorists read into this that he was somehow related to her.

Before setting off for the theatre, a White House staff member Thomas Pendel supposedly asked Parker if he was prepared for his duties that night. Parker was suppose to have responded "Oh Tommy there is no danger"

Craig


---
RE: John Parker - L Verge - 02-18-2013 12:03 PM

I would have to refresh my memory, but I do not believe that Mrs. Lincoln appointed Parker. She did ask later for him to remain on the force when it appeared that he would be reassigned.


---
RE: John Parker - RJNorton - 02-18-2013 12:08 PM

Yes, Laurie. From Otto Eisenschiml's book: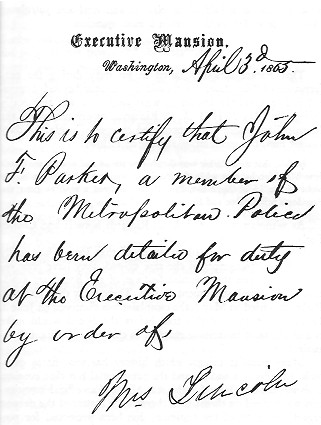 ---
RE: John Parker - Gene C - 02-18-2013 12:41 PM

How does this note compare to other samples of Mrs. Lincolns handwriting?
The date of the note sees to coincidental to me.


---
RE: John Parker - RJNorton - 02-18-2013 02:40 PM

Gene, here is a sample of Mary Lincoln's handwriting: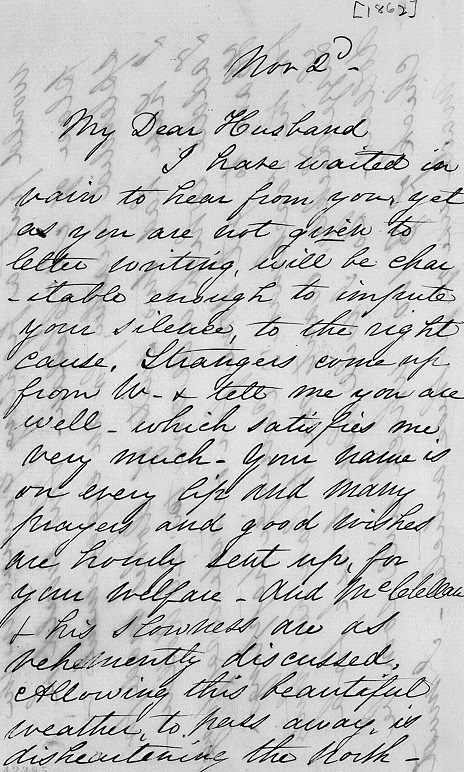 ---
RE: John Parker - Craig Hipkins - 02-18-2013 03:05 PM

Did Mary Lincoln often sign her correspondence "Mrs. Lincoln?" I checked Eisenchiml's book and underneath the facsimile of the letter it states "Original Letter In Possession Of Author." Eisenchiml has been dead for the better part of a half century, does anyone know where the original letter is today? It would be interesting to see what a handwriting expert would say about it's authenticity.

Craig


---