---
One you might have missed... - Rob Wick - 07-08-2012 10:56 AM

When I operated my blog, from time to time I would discuss Lincoln and Civil War historians who people might not remember. I also discussed books which otherwise might not be as well known today, so I hope Roger will indulge me and allow me to create a thread where from time to time I mention books on Lincoln that might have missed your radar. I currently have over 300 books (and counting) on Lincoln, some of which are little known to people even in the Lincoln community. I also would welcome your input since (although my wife might disagree) I don't have every book ever written on Lincoln.


Kicking off today is Willard L. King's Lincoln's Manager David Davis.

Published in 1960 by Harvard University Press,

Lincoln's Manager

is the only biography I'm aware of about David Davis who undoubtedly played a role not only in Lincoln's life but in the life of Robert Todd Lincoln as well. In his foreward to the book, Allan Nevins quoted Gustave Koerner as saying "Lincoln was, I believe, more intimate with him than with any other man." After Lincoln's assassination, Davis worked to settle Lincoln's estate--a difficult task given that lawyer Lincoln had left no will. By the time Davis had finished, the estate was on a solid footing.

Davis served as Lincoln's campaign manager during the 1860 presidential election and later was appointed by Lincoln to sit on the United States Supreme Court. Davis wrote the 1866 decision,

Ex Parte Milligan

, in which the court determined that when the civil courts were open and available, it was unconstitutional to hold military tribunals.

Willard L. King was a Chicago lawyer who secured a place for himself in the Illinois Credit Union Hall of Fame (oh, how many of us have strived for such an honor
). He wrote several books, including his biography of Davis. The only other work on Davis that I am familiar with was Harry E. Pratt's unpublished doctoral dissertation written under the direction of James G. Randall.

The book is available on the secondary market, but a quick check shows that it is rather expensive for a used book. Might be a good idea to check it out of a library and see if it is worth the cost.

Happy reading!

Best
Rob


---
RE: One you might have missed... - RJNorton - 07-12-2012 03:52 PM

Hi Rob. Of course you can have a thread such as you describe!!

I am curious, though. I have a book that I will bet my wife's car even you don't have and may not have heard about. Have you ever seen this one before?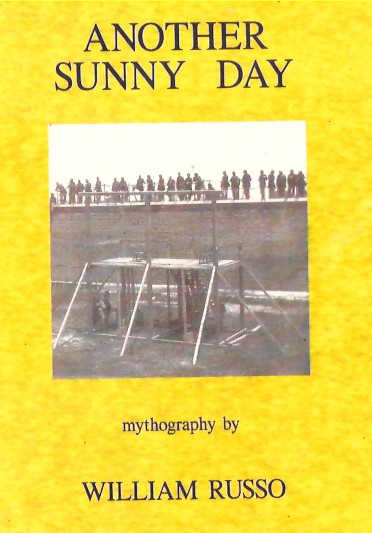 ---
RE: One you might have missed... - Laurie Verge - 07-12-2012 04:02 PM

I've never seen the book, but for some reason know the name William Russo - and love the mythography description.


---
RE: One you might have missed... - Rob Wick - 07-12-2012 05:09 PM

Your wife's car is safe, Roger. I've not seen that one before. What's its story?

Best
Rob


---
RE: One you might have missed... - RJNorton - 07-12-2012 05:32 PM

Rob, back in August 1999 it was sent to me (free) by the author, Dr. William Russo, as a pre-publication copy of his book. In an accompanying letter he said it would be for sale on Amazon and Barnes and Noble in two weeks. Whether that happened or not I do not know. I also admit to never having read the book; it's just been on the floor of the den closet all these years. I am sure he was simply hoping for a plug on my website.

In his letter he also wrote, "I recall many years ago hearing from Betty Ownsbey who was just beginning her biography of Lewis Paine...she had heard from Dr. Richard Mudd that I had been at work on a novelization of the conspiracy story. So I have finally caught up to her!!! It has been a long-time in coming."

He concluded his letter by writing, "The Lincoln assassination transcends a single event; it is a moment that defines us and gives us all a sense of community."

That's the last time I ever heard from him - almost 13 years ago.


---
RE: One you might have missed... - LincolnMan - 07-19-2012 07:23 PM

Fellow Forum folks: I saw an advertisement in an old Civil War Times magazine, circa 1966-for a book entitled The Farewell to Lincoln by Victor Searcher. I have never heard of it. I'm thinking about finding one to purchase. Anyone familiar with the work?


---
RE: One you might have missed... - RJNorton - 07-20-2012 04:41 AM

Bill, I have it. It's a good book, but forum member Scott Trostel's

The Lincoln Funeral Train: The Final Journey and National Funeral for Abraham Lincoln

is clearly superior. Please go

HERE

for information. Scott's username is 79ttocs.


---
RE: One you might have missed... - Rob Wick - 07-21-2012 06:22 PM

I would imagine before this is all over with, most of you will be tired of my references to Ida Tarbell, but I noticed she wrote a letter of encouragement to a man named Yaichi Akiyama, a Japanese citizen who wrote a book called

The Great Man Lincoln

, which was published in 1933.

The only reference to it I can find is in

The Global Lincoln

which came out last year and was edited by Richard Carwardine and Jay Sexton. In "A Standard of Our Thought and Action Lincoln's Reception in East Asia," by De-min Tao, Tao writes "Given the very high rate of compulsory elementary school attendance during this time in Japan (95 percent in 1905), a whole generation of Japanese effectively grew up with Lincoln as a foreign, yet familiar, role model, alongside more traditional figures from Japanese and Chinese histories. For instance, Yaichi Akiyama, another Japanese Lincoln biographer, recalled in

The Great Man Lincoln

: "When I was a fourth grade pupil, I studied Lincoln's story for the first time through the textbook for moral education, which left a dramatic impression on my mind."

In her letter, Tarbell wrote "Naturally I was gratified by your letter. It is always a satisfaction to me when I find that my "Life of Lincoln" has been useful to a serious student, particularly a student in another country."

Has anyone ever seen a copy of this book? According to WorldCat, the only copy available in America is at the University of Iowa, I imagine, in the Bollinger collection.

Best
Rob


---
RE: One you might have missed... - RJNorton - 07-22-2012 03:58 AM

Rob, this does not address your question, but I can tell you there is widespread interest in Asia regarding Abraham Lincoln. With respect to the assassination, I receive more questions from Germany than any other foreign country. But when it comes to general Lincoln questions, India leads.

Yesterday I received a question from a forum member which said, "Who is this guy Baidu whom I periodically see on the new discussion board?" Well, Baidu is not a person. Rather Baidu is the largest search engine in China. It has a market share of roughly 57% of all searches in China. So Baidu is indexing our words here, and for Lincoln-related searches the posts here will show up in the "Google" of China (Baidu).


---
RE: One you might have missed... - Rob Wick - 07-22-2012 09:43 AM

Wonder why Germans are most interested in the assassination? Interesting stuff, Roger.

Best
Rob


---
RE: One you might have missed... - RJNorton - 07-22-2012 09:55 AM

I cannot explain it, but the Germans seem to have a special fascination with Lewis Powell.

As far as the folks in India go, I believe a lot of schools are using a bogus letter Lincoln DID NOT write to his son's teacher, and this draws the interest of a lot of families in India. The letter seems to have spread throughout India as legit. It is not.

Here's a good example of what I mean: CLICK HERE.


---
RE: One you might have missed... - LincolnMan - 07-22-2012 09:55 AM

Interesting. I check my blog stats every month-Germany typically rates in the top three as far as the most visits to my site from individual countries. India is very high on the list also.


---
RE: One you might have missed... - L Verge - 07-22-2012 11:58 AM

As far as Germans being interested in the assassination, I can see that from the standpoint of their own militaristic history and disposing of tyrants. I can also see where Powell would fascinate them because of his training as a soldier to carry out orders once they are given.

Europeans in general love our Civil War because it marked the true beginnings of modern warfare with machines and other innovations taking over.


---