---
RE: Tough Tarbell Trivia - RJNorton - 10-28-2021 10:26 AM

Can you say what kind of doctor he was?


---
RE: Tough Tarbell Trivia - Rob Wick - 10-28-2021 11:26 AM

Sorry Roger, but that would give it away. I can say that some people would not refer to him as a doctor, but he is not a chiropractor.

Best
Rob


---
RE: Tough Tarbell Trivia - Rob Wick - 10-28-2021 05:31 PM

Final clue.

He knew Lincoln.

Best
Rob


---
RE: Tough Tarbell Trivia - Steve - 10-29-2021 11:06 AM

Dr Willard Bliss?


---
RE: Tough Tarbell Trivia - Rob Wick - 10-29-2021 01:38 PM

Sorry Steve, but it isn't Bliss.

Unless someone gets it between now and the time I get home I will reveal the answer then.

Best
Rob


---
RE: Tough Tarbell Trivia - Steve - 10-29-2021 04:07 PM

Dr Amos N. Craft? I don't know if he knew Lincoln, though.


---
RE: Tough Tarbell Trivia - Rob Wick - 10-29-2021 07:00 PM

Sorry Steve, but that's not it either.

Everyone is getting hung up on the term "doctor."" The correct answer is Roland "Rollo" Diller, who owned the drug store where Lincoln, Stephen Douglas, etc., all congregated. Given that many pharmacists (and Diller was the first licensed pharmacist in Illinois, at least according to a newspaper article I found) were referred to as "doctor" that is where that came from. The article was found in a magazine called the

Meyer Brothers Druggist

. The reference to "He knew Lincoln' was in regards to Tarbell's use of her interviews with Diller in the 1890s when she was researching her

McClure's

articles Diller died in 1905, but not before he gave Tarbell permission to turn him into Billy Brown and to write the "He Knew Lincoln" article for the

American Magazine

in 1909.

In my original plan for my Tarbell book, I started out chapter 4 with the story of how Tarbell met Diller. Here is an excerpt from it.

Fifteen summers had passed since the city of Springfield, Illinois experienced heat of the magnitude it suffered in 1894. Without some much-needed rain, the year's crops would soon be unsalvageable. Residents did what they could to survive the blistering sun and overcome a heat-induced torpor; all had little choice but to suffer in silence. Walking down a city sidewalk, Ida M. Tarbell found herself bathed in muggy, tropical air. In search of information on Abraham Lincoln, Tarbell, sweltering from the torrid summer sun, was now in search of relief. She entered a drug store situated on the east side of the city square in the shadow of the former Illinois State Capitol.
Tarbell made her way down a long, narrow aisle between glass display cases jutting out from either wall. As she walked to the back of the store, a "bearded old gentleman smoking his pipe and meditating" behind the counter immediately drew her attention. To her right, Tarbell noticed an immense stove around which sat several empty chairs. Asking for something cold to drink, Tarbell focused her gaze on the man's flowing white beard. One Springfield resident would later say the man's beard grew so long he never bothered to wear a necktie. Handing Tarbell her drink, Roland W. "Rollo" Diller asked who she was. After discovering her name and why she was visiting, Diller, who "was not averse to being drawn into conversation," told Tarbell that he had known Lincoln. Her curiosity piqued, she soon forgot about the unmerciful heat, captivated by the memories of the city's most celebrated character.
When Tarbell first met Diller, he was not, in many ways, the man Lincoln had known. To be sure, the prairie roughness remained. Garrulous to all who knew him, Diller still loved to tell a story. Like a number of Springfield residents his age, Diller knew several about Lincoln. Some were true; others, mere flights of fancy. Of course, Diller never purposefully lied. Instead, he refused to let the facts get in the way of a good story. When Lincoln, Stephen A. Douglas, John T. Stuart and several other prominent Springfield men knew him, Diller was, by his own admission, a drunk and an avowed atheist. A fitful religious conversion, made mainly at the behest of his wife and children, set Diller on a new path. For the rest of his life, he would tell anyone who asked about his battle with the bottle, but it was his stories of Lincoln that brought Diller the most attention.

Roland Weaver Diller was born October 5, 1822 in southeastern Pennsylvania. Diller's father died nine years after Rollo's birth. Diller's mother apprenticed him at the age of 12 to learn the printer's trade "but as he was rather a self-willed boy and did not like his employers, or find the work congenial, he ran away and returned to his mother's home." Diller's mother forced him back, but again he ran away.
Diller headed west to Springfield in 1844, where his sister, Maria, had settled with her husband. "Mr. Diller left Philadelphia on the 8th of November proceeding by the way of the Pennsylvania railroad to Harrisburg then came to Pittsburg, down the Ohio river to Cairo and up the Mississippi to St. Louis, whence he proceeded across the country by stage to Springfield," according to his obituary. The entire trip, which lasted sixteen days, appeared to be in vain. Diller was not favorably impressed with Springfield, but nevertheless decided to remain.
In 1849, Diller and Charles Corneau formed a partnership and bought a drugstore located on the east side of the city's square. They lost that building in 1858 to a massive fire that struck the city, after which they rebuilt in the same location. Diller and Corneau, and later Diller after Corneau's death in 1860, supplied Springfield residents, including the Lincoln family, with their medicinal and other retail needs.
Diller served those needs well, but he also did much for the men's mental well-being by providing them a place to gather, tell jokes and stories, and discuss the political issues of the day. It was that facet of Diller's life that fascinated Tarbell. A natural-born raconteur, Diller was widely known to both those in Springfield and to those in the surrounding area of central Illinois. In 1899, Diller spoke at the annual meeting of the Illinois Pharmaceutical Association. In recounting the speech in the Meyer Brothers Druggist magazine, the writer declined to repeat it to his readers, calling it "useless for us to attempt a reproduction in cold type of his witty remarks and logical arguments. They might be true in speech, but must be lacking in flavor. To our readers who have heard the doctor speak, it would remind them of tincture of vanilla made from vanilline instead of from the fresh bean."
Diller, who shamelessly flirted with Tarbell, calling her "Tarbucket," immediately captivated her. In her notes of that meeting, Tarbell wrote, "Rarely see a more interesting old face—furrowed on the forehead and from the eyes and under the lids as I never saw a face furrowed." She described his forehead as a "perfect checker-board" adding that the flesh around his eyes reminded her of a "hill side cut by heavy rains and the gullies dried. The flesh is folded up in wrinkles under the eyes but the cheeks are red and healthy." Diller's eyes were "bright, cold, penetrating" and "his hair and beard was clean." There were telltale stains of tobacco around Diller's mouth, and "the slouch of the Illinois settler hangs about him though he carries himself carefully and dresses more tidily than the typical 'settler' as becomes a man who keeps a store in town and has known presidents."
George Bunn, a Springfield executive, related in an oral history recorded in 1972, how as a child he and his family attended the First Presbyterian Church. After his conversion, Diller taught Sunday School, and as a teacher was "the most exciting of all" Bunn recalled. "We soon learned that when Sunday School class came, we could divert Mr. Diller from Shadrack, Meshad Abednego [sic] and the fiery furnace by telling him to tell us something about Mr. Lincoln, which he was only too willing to do."
It was those Lincoln stories which Tarbell wanted to convey to her readers. Tarbell realized that Diller, recast as Billy Brown, would be the perfect vehicle to bring the stories to a public, which, as S.S. McClure knew, hungered for an interpretation of Lincoln that fit their views of society and democracy. Those stories would also help cement Tarbell's reputation as the greatest Lincoln biographer of her time.

Tarbell's reasons for fictionalizing Diller can only be assumed, since she never faced the question. Perhaps she wanted more leeway in putting Brown in situations Diller never encountered. Maybe Brown's rough-hewn Midwestern dialect did not represent the true way Diller spoke. Maybe she was following the literary flavor of the moment, as fictional dialect stories at that time were immensely popular. Finley Peter Dunne, the creator of "Mr. Dooley," and one of the most famous practitioners of the art, once said the dialect story at that time had "filled the magazines so full that we sometimes wonder why they do not explode."
One also wonders if Dunne, whose journalistic home was the American Magazine when "He Knew Lincoln" appeared, may have had a marked influence on Tarbell's creation of Billy Brown. Dunne based Mr. Dooley, with his exaggerated speech pattern, on the very real James McGarry, a saloonkeeper on Dearborn Street in Chicago. Diller and McGarry appear to have a great deal in common. McGarry, Dunne's biographer Elmer Ellis wrote, had "an acquaintance amounting to an intimacy with nearly everybody worth knowing in politics, on the bench, at the bar, in trade, on the stage or in journalism." Substitute a prairie patois and put him in a drug store, and one had Rollo Diller.


Here is a picture of Diller




Best
Rob


---
RE: Tough Tarbell Trivia - RJNorton - 10-30-2021 04:44 AM

Great question and wonderful information, Rob!!

Below: a sketch of Diller's drugstore and another photo of Diller.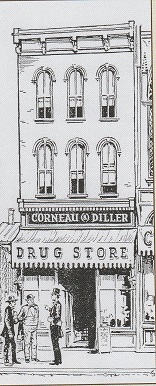 Source:

Lincoln's Springfield

by Bryon C. Andreasen.


---
RE: Tough Tarbell Trivia - Steve - 10-30-2021 09:50 PM

Rob, some time earlier you mentioned that you had decided against doing a Tarbell biography. After reading that section, I hope you write some book relating to Tarbell and/or her Lincoln research and how other scholars reacted to it during her lifetime!


---
RE: Tough Tarbell Trivia - Gene C - 10-31-2021 07:53 AM



He Knew Lincoln

, is an interesting book.
For those of you who have not read it, you can find it in Internet Archives.

https://rogerjnorton.com/LincolnDiscussionSymposium/thread-3568.html?highlight=He+Knew+Lincoln

Thanks Rob. What you shared with us adds to my enjoyment of the book.


---
RE: Tough Tarbell Trivia - Rob Wick - 10-31-2021 01:36 PM

Steve,

I appreciate the kind words. I am attempting to put together a book-length study of Tarbell's work on Lincoln. When I first set out I was trying to do it in a chronological narrative, but I couldn't make it work. The passage I quoted came from my first attempt. I wrote it to send to various presses as a sample. I decided to go in a different way by doing thematic essays, I e., Lincoln and religion, Lincoln and business, Tarbell's views toward Mary Lincoln using her views on women in general, etc. I have put that temporarily aside to put together an annotated bibliography of her entire writing life, including articles she wrote and those written about her. So far I have collected over 400 articles she wrote and well over 600 unique articles about her.

Best
Rob


---
RE: Tough Tarbell Trivia - Rob Wick - 11-06-2021 06:53 PM

This is a two-part question. There is no restriction on Googling, but honestly I doubt it will help.

What is the last article Ida Tarbell was able to get published before her death in 1944, and where was it published?

Best
Rob


---
RE: Tough Tarbell Trivia - Steve - 11-07-2021 12:02 AM

Was the article about Pearl Buck?


---
RE: Tough Tarbell Trivia - Rob Wick - 11-07-2021 01:02 AM

Nope, not Pearl Buck.

Best
Rob


---
RE: Tough Tarbell Trivia - RJNorton - 11-07-2021 05:09 AM



The Nationalizing of Business

?


---