---
A Touch of Irony - L Verge - 01-11-2018 12:00 PM

While searching for something else, I ran across an article on the lasting legacy of Mr. Lincoln in an online site for the Smithsonian Magazine. There were several paragraphs in the article that struck me as being very ironic. They relate to a 1908 race riot in Lincoln's hometown of Springfield - a riot that ultimately led to the creation of the NAACP:

In August 1908, riots broke out in Lincoln's hometown of Springfield, Illinois, after a white woman, Mabel Hallam, claimed she had been raped by a local black man, George Richardson. (She later admitted to making up the story.) On Friday, August 14, two thousand white men and boys began to attack African-Americans and set fire to black businesses. "Lincoln freed you," rioters were heard to yell. "We'll show you where you belong." The next night, the mob approached the shop of William Donnegan, a 79-year-old African-American shoemaker who had made boots for Lincoln and at whose brother's barbershop Lincoln used to mingle with African-Americans. Setting fire to Donnegan's shop, the mob dragged the old man outside and pelted him with bricks, then slashed his throat. Still alive, he was dragged across the street into a school courtyard. There, not far from a statue of Abraham Lincoln, he was hoisted up a tree and left to die.

Horrified by the reports of such ugly violence, a group of New York City activists formed the National Negro Committee, soon to be renamed the NAACP, with a young scholar named W.E.B. Du Bois to serve as director of publicity and research. From its beginning, the organization's mission was intertwined with Lincoln's, as one of its early statements made clear: "Abraham Lincoln began the emancipation of the Negro American. The National Association for the Advancement of Colored People proposes to complete it."

Read more: https://www.smithsonianmag.com/history/lincolns-contested-legacy-44978351/#Xyd6WzkSfwoIIzos.99


---
RE: A Touch of Irony - RJNorton - 01-11-2018 03:09 PM

Donnegan is buried in Oak Ridge Cemetery in Springfield. Here is a photo of him: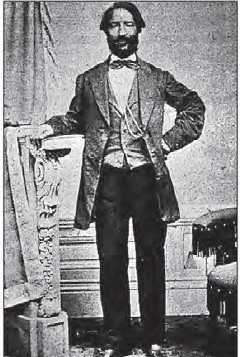 ---
RE: A Touch of Irony - Gene C - 01-11-2018 03:42 PM

Here is an interesting link about the riot

http://sangamoncountyhistory.org/wp/?p=1486

From the above article

"Mabel Hallam, the wife of a streetcar conductor, whose Aug. 13 report that a black man had sexually assaulted her in her home on North Fifth Street kicked off the riot, recanted her identification of Richardson on Sept. 1. It later developed that she had not been assaulted at all, but had been entertaining a white lover."

She was never punished for the false report, although the Hallam family moved out of Springfield a few months later.


---