JOHN WILKES BOOTH'S DIARY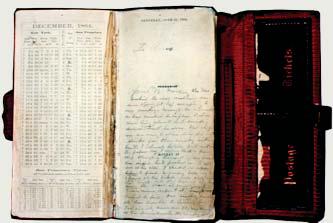 National Park Service Photograph

A small red book, which was actually an 1864 appointment book kept as a diary, was found on the body of John Wilkes Booth on April 26, 1865. The datebook was printed and sold by a St. Louis stationer named James M. Crawford. The book measured 6 by 3 1/2 inches and pictures of 5 women were found in the diary pockets. Booth's entries in the diary were probably written between April 17 and April 22, 1865. The text of the diary is as follows:
"Until today nothing was ever thought of sacrificing to our country's wrongs. For six months we had worked to capture, but our cause being almost lost, something decisive and great must be done. But its failure was owing to others, who did not strike for their country with a heart. I struck boldly, and not as the papers say. I walked with a firm step through a thousand of his friends, was stopped, but pushed on. A colonel was at his side. I shouted Sic semper before I fired. In jumping broke my leg. I passed all his pickets, rode sixty miles that night with the bone of my leg tearing the flesh at every jump. I can never repent it, though we hated to kill. Our country owed all her troubles to him, and God simply made me the instrument of his punishment. The country is not what it was. This forced Union is not what I have loved. I care not what becomes of me. I have no desire to outlive my country. The night before the deed I wrote a long article and left it for one of the editors of the
National Intelligencer
, in which I fully set forth our reasons for our proceedings. He or the gov'r-
After being hunted like a dog through swamps, woods, and last night being chased by gunboats till I was forced to return wet, cold, and starving, with every man's hand against me, I am here in despair. And why? For doing what Brutus was honored for. What made Tell a hero? And yet I, for striking down a greater tyrant than they ever knew, am looked upon as a common cutthroat. My action was purer than either of theirs. One hoped to be great himself. The other had not only his country's but his own, wrongs to avenge. I hoped for no gain. I knew no private wrong. I struck for my country and that alone. A country that groaned beneath this tyranny, and prayed for this end, and yet now behold the cold hands they extend to me. God cannot pardon me if I have done wrong. Yet I cannot see my wrong, except in serving a degenerate people. The little, the very little, I left behind to clear my name, the Government will not allow to be printed. So ends all. For my country I have given up all that makes life sweet and holy, brought misery upon my family, and am sure there is no pardon in the Heaven for me, since man condemns me so. I have only heard of what has been done (except what I did myself), and it fills me with horror. God, try and forgive me, and bless my mother. Tonight I will once more try the river with the intent to cross. Though I have a greater desire and almost a mind to return to Washington, and in a measure clear my name - which I feel I can do. I do not repent the blow I struck. I may before my God, but not to man. I think I have done well. Though I am abandoned, with the curse of Cain upon me, when, if the world knew my heart, that one blow would have made me great, though I did desire no greatness. Tonight I try to escape these bloodhounds once more. Who, who can read his fate? God's will be done. I have too great a soul to die like a criminal. Oh, may He, may He spare me that, and let me die bravely. I bless the entire world. Have never hated or wronged anyone. This last was not a wrong, unless God deems it so, and it's with Him to damn or bless me. As for this brave boy with me, who often prays (yes, before and since) with a true and sincere heart - was it crime in him? If so, why can he pray the same?
I do not wish to shed a drop of blood, but 'I must fight the course.' 'Tis all that's left to me."

Mystery surrounds this diary. The little book was taken off Booth's body by Colonel Everton Conger. He took it to Washington and gave it to Lafayette C. Baker, chief of the War Department's National Detective Police. Baker in turn gave it to Secretary of War Edwin Stanton. The book was not produced as evidence in the 1865 Conspiracy Trial. In 1867 the diary was re-discovered in a "forgotten" War Department file with pages missing. Although most sources indicate 18 pages were missing the FBI's forensic laboratory has examined the diary and stated that 43 separate sheets are missing. This means that 86 pages are gone. For details please see page 188 in Edward Steers'
Lincoln Legends: Myths, Hoaxes, and Confabulations Associated with Our Greatest President
(Lexington, University Press of Kentucky, 2007).
Over the years there has been endless speculation on those missing pages including rumors that they had surfaced. Nevertheless, they remain officially missing. Two of the pages was torn out by Booth himself and used to write messages to Dr. Richard H. Stuart on April 24, 1865. To speculate on their contents makes for interesting reading, but it's essentially fruitless as no one knows for sure what the rest of the missing pages may or may not have contained.
Booth's diary is on display at Ford's Theatre. For more information, see pp. 154-159 in
"Right or Wrong, God Judge Me" The Writings of John Wilkes Booth
edited by John Rhodehamel and Louise Taper (Urbana, University of Illinois Press, 1997). For more discussion of the diary and the missing pages see chapter 12 (pp. 177-202) in Edward Steers'
Lincoln Legends: Myths, Hoaxes, and Confabulations Associated with Our Greatest President
(Lexington, University Press of Kentucky, 2007). Additionally, please see Dr. William Hanchett's article entitled
Booth's Diary
online
here
.
---
This is not a commercial website. None of the photographs and artwork exhibited herein are being sold by the webmaster. Some photographs and artwork are believed to be in the public domain. Any copyrighted photographs and artwork are used in the context of this website strictly for educational, research and historical purposes only, under the "Fair Use" provisions of the Copyright Act, (US CODE: Title 17,107. Limitations on exclusive rights: Fair Use Section 107). Anyone claiming copyright to any of the posted photographs or artwork please inform the webmaster of such and it will be duly noted or removed.
Questions, comments, corrections or suggestions can be sent to
R. J. Norton
, the creator and maintainer of this site. All text except reprinted articles was written by the webmaster, ©1996-2017. All rights reserved. It is unlawful to copy, reproduce or transmit in any form or by any means, electronic or hard copy, including reproducing on another web page, or in any information or retrieval system without the express written permission of the author. The website was born on December 29, 1996.
Web design by Andrew Patel.